Rosin Top in Silk | Fuchsia
A tank top with adjustable straps that allows you to choose the depth of the cleavage, made of high quality silk that has a natural shine and makes you glow.
Pair it with pants or a skirt for an everyday stylish look, or wear it with our Karen skirt to create a gorgeous evening gown, perfect for any occasion.
*Dry cleaning only

גופיה עם כתפיות מתכווננות שמאפשרות לך לבחור את עומק המחשוף. הגופיה עשויה מבד משי מאוד איכותי עם ברק טבעי שיעטוף אותך בזוהר.ח
 לבשי את הגופייה עם מכנסיים או חצאית ללוק יומיומי נוטף סטייל, או שלבי אותה עם חצאית המעטפת שלנו ותקבלי שמלת ערב יפהפייה, מושלמת לכל אירוע.ח
*ניקוי יבש בלבד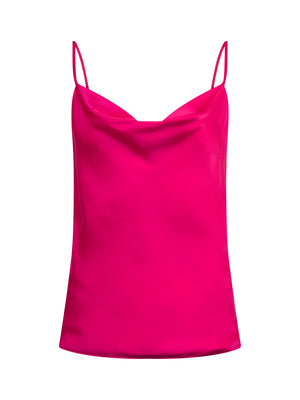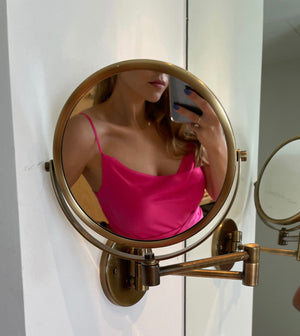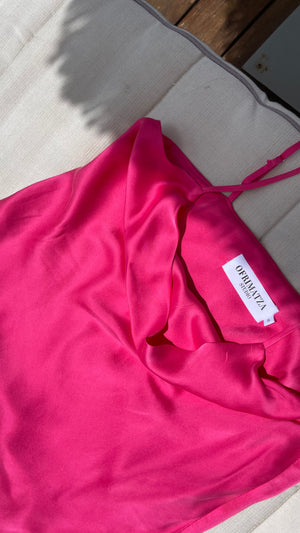 Shipping
- Our clothes ship priority from our studio in Tel Aviv to anywhere in the world.
- Shipping charges for your order will be calculated and displayed at checkout.
- Delivery to the house 35 ILS (arrival time 3-5 business days).
- Free shipping on purchases over 500 ILS to the customer's home - (which will appear to the customer in the shopping cart, how much he needs to add to the purchase to receive free shipping)
- Self-collection from the studio at no cost, collection by prior arrangement.
Replacement / Returns
- Within 14 business days of receiving the item.
- An item purchased on sale can be exchanged up to 5 days from the date of receipt.
- Return with courier - cost 35 ILS.
- Return / exchange will be given provided the product has not been used and the product is returned in its original packaging with the garment label.